Blog
This is an example of a blog, which works in the same way as a News or Events page. This intro text is optional and edited in the respective section record (Content > Sections). The pieces below are 'articles', which in turn are added/edited by going to Content > Articles.
How to edit/create a blog.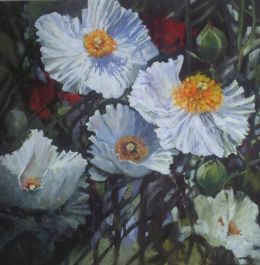 A Style of our Own
06/12/2012
A Style of our Own
I have been thinking about how as artists we develop our own "style" of painting and how it is influenced by those whose work we admire, the people who teach us and the way we put our paint/pastel etc down so that it works – that however can rely on a number of factors and one of the most important is knowing where and how to put that mark!
So I thought back over the years that I have been painting and am amazed at the journey – it has been one that I have truly enjoyed and of course is nowhere near where I want to be – but I am happy that there has been progress. I have said it before and without doubt that the biggest difference between "now" and "then" is the time I spend actually painting. I firmly believe that for our work to get better and better then we have to commit the time to putting paint down – there are no shortcuts – unless you are one of those amazingly gifted individuals who can just do it.
I was talking to another artist at a recent exhibition and she had come to congratulate me on winning a prize and said that she must try something different as she was "good at copying" but didn't really know how to liven her work up. I found this interesting and on reflection can see that by copying either a photo or another artists work it can soon become a two edged sword because we can never make our work look as good as the photo or that particular artist – it just isn't possible and we can get stuck in the rut of trying to produce something that isn't really us – so use copying only as a last resort, a learning tool and never anything else!! (having said that -re photos - they are great as reference material, a starting point for a painting and a reminder of light and shadow but do a thumbnail sketch to cement the composition and work out any bugs before you start painting). I greatly admire a number of artists whose work has inspired, encouraged and excited me but one thing I learned is to take note of how they work and use some of their techniques but to apply them in my own way.
The work of Tony Allain – a wonderful artist from NZ whose application of pastel is just inspiring and a comment from him really struck home when he said -"I have learned over the years to make a mark and leave it even if it is in the wrong place. All other passages will cancel out these imperfections" – how true is that but of course we do have to do battle with that inner voice that says – oh a mistake – quick fix it !!! I fall for it too many times.
When I am tutoring I feel I have a responsibility to encourage students to learn but at the same time to explore and understand, so that when experimenting with strokes, direction and analysing why one stroke worked and another didn't then they are building a style that will become theirs - not a replication of how I do it but their own unique way – it is comfortable to be in that place where we are satisfied with what we are producing but for me I have this desire to push myself to learn something new each day – its' exciting too. Of course many of us aren't that intense about their art but I want to learn more and more and even though I try many things I know I have developed a style of my own – so don't be afraid to play with paint – push it beyond where you have been and see what happens!